CS Center
Bucheon business establishment.

Tel 82-32-822-9871
Fax 82-32-822-9879
Counseling time : 08:00~18:00
(closed at public holiday and weekend)
Applied Products and Connector Accessories
Non return of cleanser bubble and role of prevention of noise (Utility model 057549)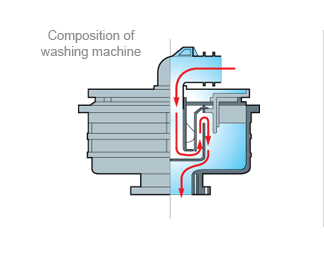 Wastewater from washing machine drains in the direction of arrow on the drawing.
In this process, non return pipe drains water as controlling and distributing amount of it from washing machine so that it makes that draining water isn't delay, also it is designed never return of lots of cleanser bubble. (Patent matters)
Wings of non return pipe is excellent at prevention noise as suppressing vortex when drains water.