CS Center
Bucheon business establishment.

Tel 82-32-822-9871
Fax 82-32-822-9879
Counseling time : 08:00~18:00
(closed at public holiday and weekend)
Food Processor PIONA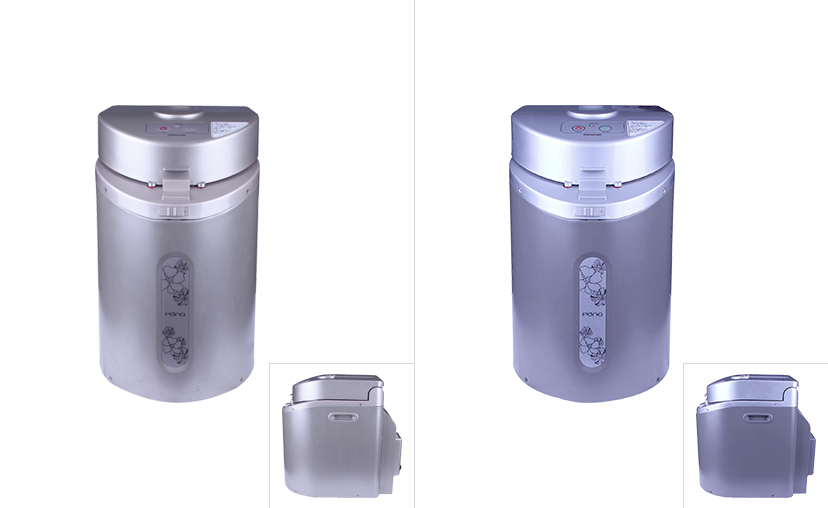 Specification
The largest capacity of 2.5Kg in Korea

Input of food waste can be processed up to 2.5kg and it is the largest capacity in korea for home use.

High reduction rate

Reducing over 80% in weight and 90% in volume of normal food leftovers by dehydrating with hot-air as well as stirring simultaneously.

High-performance deodorization and sterilization

Adopting a high-temperature deodorization method using a platinum method element catalyst, it has excellent performance in terms of removing stenches and it can be used semi-permanently. It is hygienic as it is sterilized by the high-temperature hot-air dehydration method at over 130℃.

Short processing time

Processing time is short adopting high-temperature hot-air dehydration method. (400g standard, Processed for 1 hour and 45 minutes)
※Processing time may vary depending on type and quantity of leftover food and quantity of juice or water.

Full-auto of Micom control type

With the full-auto program, heating, stirring, deodorization, dehydration and cooling starts automatically by pushing the start button.

Complete solution to electromagnetic waves and internal voltage

Safe design blocking of EMI(electromagnetic waves) and withstanding internal voltage of 1,250V.
(Safety certification scheme for electrical appliances : HE07042-7001B Korea Electric Testing Institute)

Special coating on the surface of an inner bucket

Special coating on the surface of an inner bucket, stirring wing and fixing knife won't let food stick to the product.

Economical efficiency

No extra maintenance cost is needed as it is not a filter replacing type.
Comparison with dehydration method of other products
Product
Dehydration method
Loss rate
Processing time
(400g standard)
Economical efficiency
PIONA
Stirring hot-air dehydration
80%
1hour 45minutes
No extra parts replacement required
Other
Simple warm-air dehydration
65%
About 17-19hours
Filter replacement 4times per a year
Specification
| | |
| --- | --- |
| Processing method | Stirring hot-air dehydration |
| Power consumption | 0.5kw/h |
| Rated voltage | 220V/60Hz |
| Dimension | 272(W)x454(D)x436(H) |
| Certification No. | HEO7042-7001B |